.

DAYTONA BEACH, Fla. (November 15, 2019) – American Flat Track has announced its 18-event schedule for the 2020 season, which once again features coast-to-coast action and launches anew at legendary Daytona International Speedway on March 14 with a Saturday of Speed: an epic season opener DAYTONA 200 & DAYTONA TT Doubleheader. It all finishes next fall with the Meadowlands Mile* finale at the most spectacular venue of the season: Meadowlands Racing & Entertainment in East Rutherford, N.J.
There are two fan favorite events returning to the schedule and one event revamped for a thrilling new experience. The returning venues is the Half-Mile at Charlotte Motor Speedway in Charlotte, N.C. and the famed OKC Mile.
Additionally, the fastest Mile in the world - the Springfield Mile - will run back-to-back as a doubleheader, making for a Labor Day weekend event unlike any other.
"AFT is coming off the back of a record-breaking season and we have planned the 2020 schedule to push things to the next level and return to the best tracks in the country," said Michael Lock, CEO of American Flat Track. "We are delighted to be restoring the series to OKC and Charlotte and to amplify the thrilling action of Springfield Mile with a fall doubleheader."
Tickets for the first-ever doubleheader - DAYTONA 200 and DAYTONA TT - at the legendary Daytona International Speedway are on sale now. Watch both historic motorcycle racing events during Bike Week at DAYTONA for just $35 when you purchase an advance General Admission ticket online. Get yours at tickets.americanflattrack.com
Final 2020 American Flat Track Schedule:
1. March 14: DAYTONA 200 & DAYTONA TT - Daytona International Speedway, Daytona Beach, FL
2. March 28: Atlanta Short Track - Dixie Speedway, Woodstock, GA
3. April 4: Charlotte Half-Mile - Charlotte Motor Speedway, Concord, NC
4. May 2: Texas Half-Mile - Texas Motor Speedway, Fort Worth, TX
5. May 9: So-Cal Half-Mile - Perris Auto Speedway, Perris, CA
6. May 16: Sacramento Mile - Cal Expo, Sacramento, CA
7. May 30: Red Mile - Red Mile, Lexington, KY
8. June 13: Laconia Short Track – New Hampshire Motor Speedway, Loudon, NH
9. June 20: OKC Mile - Remington Park, Oklahoma City, OK
10. June 27: Lima Half-Mile - Allen County Fairgrounds, Lima, OH
11. July 4: New York Short Track - Weedsport Speedway, Weedsport, NY
12. August 9: Buffalo Chip TT - Buffalo Chip, Sturgis, SD
13. August 11: Black Hills Half-Mile - Black Hills Speedway, Rapid City, SD
14. August 22: Peoria TT - Peoria Motorcycle Club, Peoria, IL
15. September 5: Springfield Mile I - Illinois State Fairgrounds, Springfield, IL
16. September 6: Springfield Mile II - Illinois State Fairgrounds, Springfield, IL
17. September 12: Williams Grove Half-Mile - Williams Grove Speedway, Mechanicsburg, PA
18. September 26: Meadowlands Mile* - Meadowlands Racetrack, East Rutherford, NJ



NASCAR and NBC Sports to Launch 'TrackPass on NBC Sports Gold'

Platform builds off FansChoice.tv – immediately becomes most robust digital motorsports offering in U.S. Marketplace

STAMFORD, Conn. and DAYTONA BEACH, Fla. (Nov. 14, 2019) – NASCAR® and NBC Sports have teamed up to launch TrackPassTM on NBC Sports Gold, a new streaming product representing NASCAR's most significant undertaking in the direct-to-consumer space. Set to launch in early December, TrackPass on NBC Sports Gold builds off the foundation set by FansChoice.tv and immediately becomes the most robust live and on-demand motorsports content offering in the domestic digital marketplace.
TrackPass on NBC Sports Gold will bring fans more exclusive live motorsports events and an extensive library of archived documentaries and films. The platform will offer exclusive live viewing of a multitude of motorsports, including American Flat Track, select ARCA Menards Series™ events (including ARCA Menards Series East and West races), NASCAR Whelen Modified Tour™, and tentpole grassroots racing events, as well as NASCAR Cup Series™ and NASCAR Xfinity Series™ practice and qualifying sessions (NBC Sports' half of the schedule only).
Fans of American Flat Track will remember its debut as the first motorsport to be streamed live on FansChoice.tv when the live streaming website was launched in 2014. Over the past six seasons, AFT fans consumed live content via the web-based platform in record numbers, with more than two million unique viewers streaming AFT content on FansChoice.tv. With the transition to TrackPass on NBC Sports Gold, fans will enjoy the streamlined ability to watch America's Original Extreme Sport on their favorite devices. In addition, AFT's coverage on TrackPass on NBC Sports Gold will be available at a special introductory price for the 2020 season as a token of gratitude to the American Flat Track fans who contributed to the success of FansChoice.tv





2020 Dainese D-air Suit Discount




American Flat Track Riders

As the Official Safety Partner of American Flat Track, Dainese is pleased to offer licensed riders a 50% discount on custom D-air suit orders for 2020.

Airbag suits are mandatory in the AFT SuperTwins class and recommended for the AFT Productions Twins and AFT Singles classes.


The Pilota FT suit is specifically made for AFT riders only and is available at the discounted price of $2,000, which includes one free service upon deployment.
Dainese is offering contingency for 2020. Riders who purchase a custom suit will be able to order other Dainese products at 50% off.

Additional Information on the discount, contingency program and order process can be found HERE.

ORDER DEADLINE DECEMBER 6, 2019

(to have in time for DAYTONA TT)

Orders placed between December 6, 2019 and January 6, 2020 will be delivered by May 15, 2020.

To place your order, email Marc Freidman at marc.friedman@dainese.com and Peter Bacon at peter.bacon@dainese.com.






District 37 Rider Reunion

Hummingbird Nest Ranch
2940 Kuehner Dr. Santa Susana, CA 93063

Meet and greet the racers of the Hopetown/Corriganville Grand Prix races. Also the Ascot shoes and the Desert Bums!
Come enjoy a day of seeing the vintage bikes on display, bench race, meet the guys that started it all. Enjoy a beautiful

location, live music, venders and merchants. Event will be held rain or shine as a large building holds over 200 bikes.
General Admission $20 10 am to 4pm
Includes bike show entry Autograph session Live Music Parking
VIP Admission $55 4:30 to 8:30
Includes General Admission VIP reception at house Includes Food and Wine Tasting VIP parking
805 750-0277 for tickets



Royal Enfield Arms A 650 Twin For The Flat Track



The Original Trackmaster Miler Prototype Is For Sale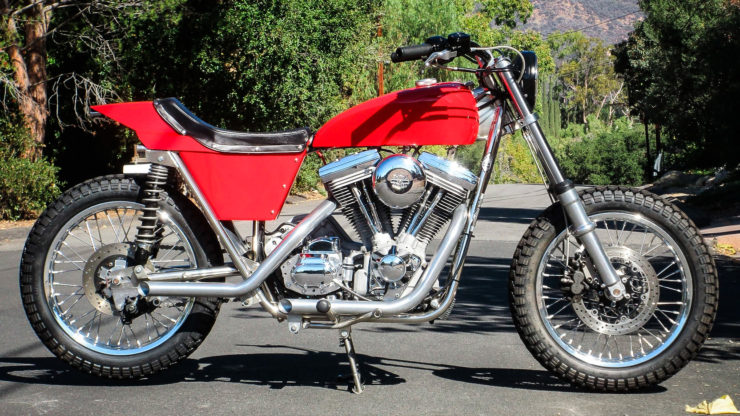 To: American Flat Track Community
From: American Flat Track Competition Department
Date: October 15, 2019
Subject: 2020 AFT SuperTwins Team Application

The 2020 AFT SuperTwins Team Application has been posted under the Rules and Applications tab in the Competitor Information section of the AMA Pro Racing website.

Direct link can be found below:
Note: AFT SuperTwins Team Applications due by December 1, 2019.
Questions regarding 2020 AFT SuperTwins Team Applications should be directed to Chief Competition Officer, Joey Mancari at jmancari@amaproracing.com.
American Flat Track

Yamaha TZ750 Street Tracker
Brad Peterson-built Steve Baker replica for the street.
Baker TZ's at Red Rock H-D in Las Vegas

Questions regarding the AFT SuperTwins program should be directed to the

American Flat Track


Lodi Cycle Bowl

Night Before The Mile

August 9, 2019

Lodi Motorcycle Club

at Sacramento Mile

August 11, 2019


SCFTA Framer Shootout - Perris - May 10, 2019





DIGGER HELM MEMORIAL

West Coast Dirt Track Series


WILLOW SPRINGS - Sunday May 5, 2019

DIGGER HELM MEMORIAL

West Coast Dirt Track Series


WILLOW SPRINGS - Saturday May 4, 2019